6 Must try Great things to do in Udupi
Craving for a beach vacay but don't wanna ruin your perfect sunset selfie with half naked men photobombing it? then yes my friend Udupi is the holy grail for you, it is the perfect place to experience crystal clean beaches, refreshing sea breeze along with great food without making a huge dent in your pocket and in this blog I'll share 6 Must Try things that you absolutely don't wanna miss out while exploring this underrated gem.
Here are 6 things that are must try in Udupi
---
1. Mini trip to St. Mary's Island
This dazzling Island is located just 6 Kms off the coast of Malpe. Surrounded by clear waters & basaltic rocks, which were created at the time Madagascar Island got separated from India. The island offers pristine white beaches & a truly enticing experience of watching the waves crash those crystalline rocks. Thanks to its tucked away location, it is vastly underrated and has a huge potential of becoming The Next Tourist Destination.
---
2. Delta Point (Kodi Bengere Beach) – Where river meets the Sea !
There are loads of beaches in udupi and one can go beach hopping if they prefer, but what really special about this place is that, here river Suvarna meets the Arabian Sea. A drive along the road would present you with the sound of waves on one side and stillness of calm back waters on the other, allowing you to experience the best of both worlds!
Delta Point which is located at the end of this road makes for a perfect venue to spend a calm and serene evening with your partner while soaking in a surreal view of confluenting waters.
---
3. Kori Rotti, Chicken curry with Toddy at Aruna Shack
A quaint place very close to Delta beach and can be easily spotted from the road, Locals go gaga over its food so you can't go wrong with it. Though its popular for its sea food but one thing that you surely don't wanna miss is its Kori Rotti, Chicken curry with Toddy, yes you read that right! famous drink from Kerala is available right in the vicinity of Delta beach.
---
4. Peace and tranquility at Chaturmukha Basadi
Chaturmukha Basadi also known as Kere Basadi, is a Jain temple located in varanga village in Udupi. This treasured temple dates back 850yrs ! and is testament to the rich art, history and heritage of India. The temple nestled in the middle of a lake offers peace and tranquility to the visitors.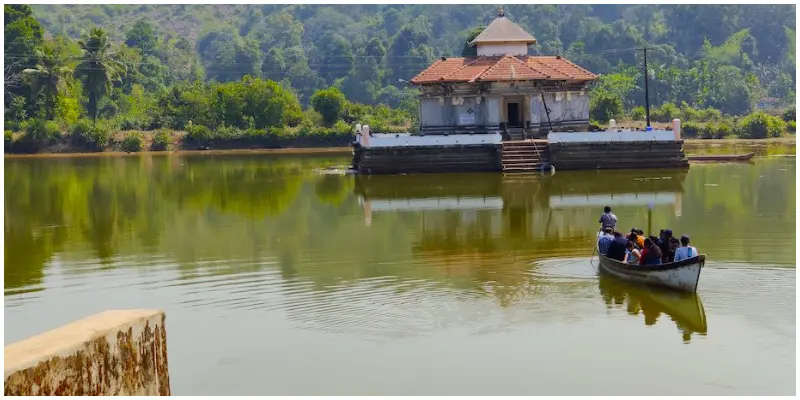 ---
5. Tea & Buns at Mithra Samaj – Shri Krishna Matha
Before one proceeds to relish the taste of Mithra Samaj, It would be a grave mistake to not talk about the beauty and magnanimity of Shri Krishna Matha, founded by Shri Madhvacharya in the 13th century, this is one of the most venerated temple dedicated to Lord Krishna. The temple has preserved its rich architecture which dates back hundereds of years and offers sublime atmosphere to its devotees.
While the temple feeds the inner soul of its devotees, its the Mithra Samaj that takes care of their tummies. The restaurant is very popular among locals and they don't miss a chance to appreciate its satvik food (preprared without using Onion and Garlic) which is being served here for decades now, and while you're here don't miss out on trying their Manglore Buns which is packed with falvors of coastal Karnataka.
---
6. Sunset at Kapu Beach
Sandy beach + Panoramic view of Arabian Sea + A Lighthouse! exciting isn't it!! That's exactly what Kapu or Kaup beach offers. This gem of a spot is located just 13km from Udupi and dare I say, it is a picturesque wonderland. With a century old Lighthouse at its heart, the beach has an old worldly charm. Lighthouse is open to visitors from 4 PM to 6 PM daily (Subject to change due to covid) and once you get to the top, watching the sunset from there, is truly a sight to behold making this place a perfect way to end your day.
This definetly got us excited to pack our bags and head to Udupi again. I'm sure you must be feeling that too, let us know in the comments which location are you most excited to capture in your selfies.